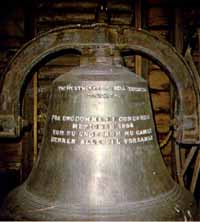 Inscription
KOM NU UNGE KOM NU GAMEL
HERREN ALLE VILL VORSAMLE
Come young, come old,
The Lord would have us all together!
Concordia's church bell was purchased by the Young People's Society (ungdommen). They raised the $210.86 cost through donations and a variety of fund-raising activities. The bell was ordered in 1894 and installed in 1895.
"...On June 8, 1971, Nettie Cosen at the age of 87 came to Vacation Bible School. She came to tell us about the day the bell was put into place. She was 11 the day the bell first rang. She, along with other pioneer children, were invited to come and see as the bell was slid on long heavy planks from the ground floor to the balcony...It was a great thrill to hear the bell ring, Nettie said, on that first day..."

from Concordia, 1872-1972 - 100 Years of the Mercies of God!
The bell was tossed to the ground by the 1931 tornado, but survived undamaged. It took its place in the new church's bell tower in 1938.